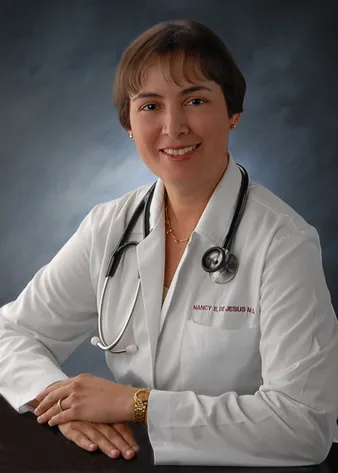 Dr. Nancy DeJesus, MD

Dr. DeJesus is Your Holistic- Functional Medicine Expert. She uses functional medicine to help you find answers to the cause of your illness and the nutritional and biochemical imbalances that may be making you feel ill. Functional medicine is personalized medicine that deals with root cause of disease instead of just treating symptoms.
She will search for underlying triggers that are contributing to your illness through cutting edge lab testing and tailor the intervention to your specific needs as an individual.
Dr. DeJesus may use diet, supplements, energy medicine,lifestyle changes or medication / therapies to treat your illness but will seek the most gentle way to help your body restore balance along with the least invasive treatment possible.
She seeks to promote wellness and create hope, health and healing by working with you!
She completed her residency at the Wilson Memorial Hospital in Family Medicine (Up State New York). Licensed to practice medicine in NY since 1992 and Florida since 1993. She received her Bachelor of Science degree at the University of Puerto Rico.
By changing the lives of thousands of patients Dr. DeJesus has established her reputation and expertise in merging natural therapies with modern-day pharmaceuticals only when absolutely necessary.
After years of intense research, Dr. DeJesus is part of an elite - forward thinking - group of distinguished physicians in the United states that prescribes Low Dose Naltrexone (LDN) as part of her medical treatment recommendations for the following diseases: Autoimmune disease, Hashimoto's Thyroiditis, Fibromylagia, Chronic Fatigue Syndrome, Crohn's Disease, Multiple Sclerosis, Peripheral Neuropathy, Depression, Cognitive Decline, etc.